Poker Mira is a fairly young, but at the same time rapidly developing poker room, where they play mainly for small stakes, so there are not many strong players here. Poker Mira is perfect for beginners looking to hone their skills and build their first bankroll.
The site provides a convenient system of player ratings. The main goal of the system is to provide the most active players with the highest quality of service and all kinds of bonuses and privileges.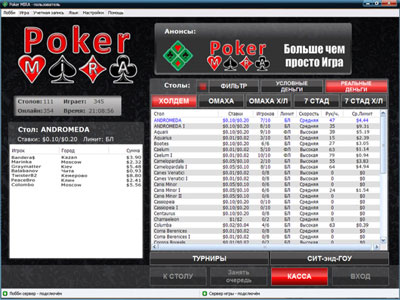 Player traffic
There are not too many players at the tables of this young poker club (when compared to the larger poker rooms).
However, there is some benefit to be derived from this, especially for beginners who are just starting to play poker.
It's easy to compete here as the pros prefer the more popular poker rooms.
Intermediate players can improve their game in order to further master the large tables, where the winnings are far from $ 25-100.
Variety of games
Here you can play the following poker games:
Hold'em;
Omaha;
Omaha Hi / Lo;
Herd;
And also stud hi-lo.
Poker room bonus policy
I must say that the bonus system of this poker room is very generous.
Thus, registered players receive a 100% bonus, the size of which is about $750.
Thus, the player has a chance to double his initial deposit.
You can also earn money from playing poker, for which it is enough to collect the "Combination of the day".
Beginners can play Poker Mira on free tables, the prize pool of which varies between $ 25-100.
By inviting your friend, you can get an additional 50 USD. to your gaming account.
Poker room software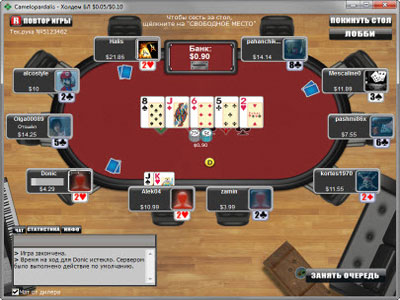 Poker Mira runs on its own well-designed Russified software. The pages of the site contain all the information necessary to understand all aspects of the game, without exception.
Players can, at their discretion, choose their favorite game table skin and upload their favorite avatar.
The possibility of displaying funds directly at the gaming table in national currency is also pleasantly surprising.
Poker Mira software is very simple and easy to use. A maximum of 24 tables can be opened here at the same time.
Deposit methods
Top-ups at Poker Mira are possible through WebMoney, VISA, MasterCard, MoneyMail, etc.
And you can withdraw money through VISA, RBKmoney, Privat24, WebMoney, MasterCard, MoneyMail and other payment systems.